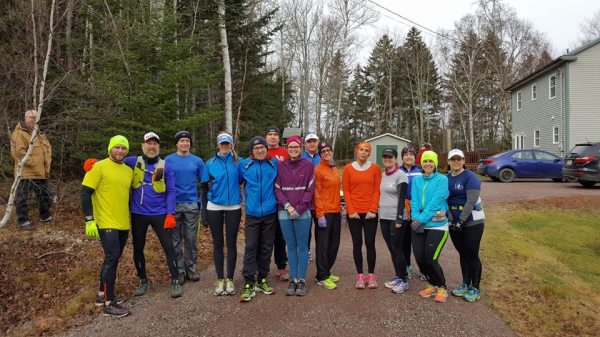 New trail run helps out the Bridge Adult Service Centre

Frenchman's Revenge raises $720 for Amherst facility

By Andrew Wagstaff

Maritime Runner
Dec. 10, 2017
BROOKDALE, N.S. – The Bridge Adult Service Centre in Amherst has received a little extra holiday support this year, thanks to a first-time local trail run.
Anthony Fromm hosted The Frenchman's Revenge, an 11K/5K jaunt through the woods near his Brookdale home on Saturday, Dec. 9, with all proceeds going to the facility, which provides employment for special needs clientele through operation of a Laundromat, thrift shop and the creation of items with recyclable materials.

Seventeen runners took part in The Frenchman's Revenge, a trail run held in Brookdale, N.S. on Saturday, Dec. 9 in support of the Bridge Adult Service Centre in Amherst.

Photo courtesy of Anthony Fromm

An avid trail runner himself, Fromm said he was pleased with the event, which was named after the Frenchman Road, the logging road/trail on which much of the run took place.
"We had 16 runners and no one got lost," he said. "People said they really enjoyed it. They got their feet a little dirty, and only one person wiped out."
Fromm had the idea for the fundraiser after hearing about some recent vandalism at the Bridge centre, and theft of some of its donated materials.

He said he was thrilled with the response before the run even took place, as donations started to come in beforehand. A total of $720 had come in for the cause by today.
He was thankful for the support and the great weather.
"It was perfect," he said. "It was cool but not cold, and the trail was not as muddy as it could have been. We had some awesome volunteers on the course, keeping people safe and on track."