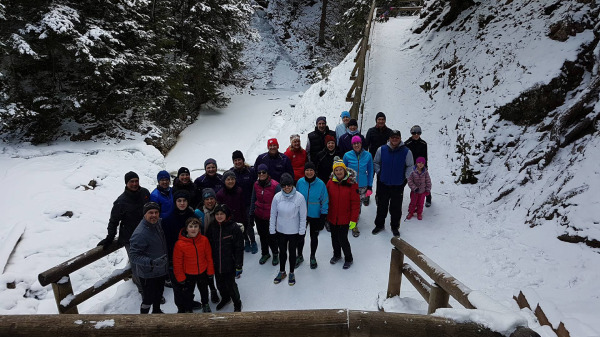 New Year's Run

followed by nerf war

Small crowd turns out for annual Truro event

By Andrew Wagstaff

Maritime Runner
Jan. 2, 2018

TRURO, N.S. – You may have started your New Year off with a run, but did you follow that run with a nerf war?
That's exactly what a group of runners in Truro did yesterday, as gotruro.ca hosted its annual Resolution Run at Victoria Park.
Although the event has drawn up to 80 in the past, last year's turnout was smaller due to icy conditions, and this year's group was once again small, according to organizer Troy Bond.

A hearty group of runners and walkers braved the elements for the Why Wait Resolution Run and Nerf War in Truro, N.S. on Monday, Jan. 1.

Photo courtesy of gotruro.ca

"It's not the turnout we had in the past, but it was cold and some people don't like the footing in the park," he said.
The sixth fun walk/run was hosted at the Douglas Street Recreation Centre, where hot chocolate was served afterwards.
"People were positive, talking about their goals for 2018," said Bond. "A lot of the people were affiliated with the Truro Run Tribe, and five were with the triathlon club."

The 90-minute nerf war after the run seemed to be a hit.
"We added a nerf war to make it kid-friendly, as you aren't going to get them all out running or walking in -10."
Set up and operated to promote fitness events in Colchester County, the gotruro.ca website has put on 53 events in the past five years, with an initial focus on running and triathlon. This year's theme is "Why wait?"