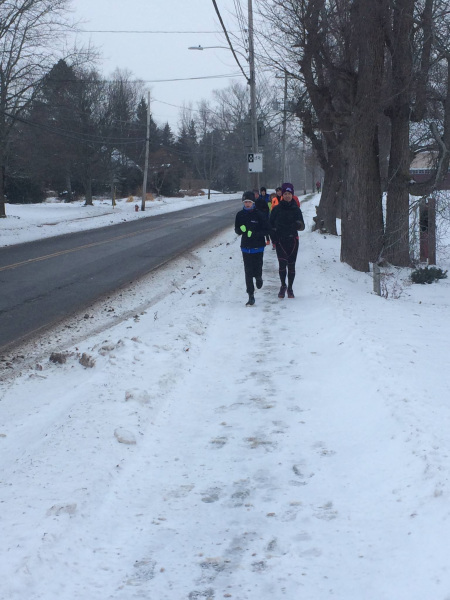 New Year welcomed in Wolfville

Food bank fundraiser draws 134 participants

By Andrew Wagstaff

WOLFVILLE, N.S. – The New Year got underway a little early here this afternoon.
The 11th annual Wolfville Resolution Run took place on a frigid afternoon in downtown Wolfville on Dec. 31, attracting 134 participants.
"It went really well," said Mary Mott, one of the volunteers putting on the event, which raised more than $650 and over 20 bags of groceries for the Wolfville Food Bank.
Mott was pleased but not surprised about the turnout.
"I think the event was well promoted and well supported by members of the community," she said. "As the Facebook administrator I was witness to quite a flurry of shares of the event, especially as the last few days wound down."
Participants make their way along the snowy sidewalk in Wolfville, N.S. for the 11th annual Wolfville Resolution Run on Sunday, Dec. 31.

Photo courtesy of Mary Mott

The conditions were quite cold, with a bit of a wind chill, according to Mott.
Put on by a small group of volunteers, with support from the Town of Wolfville, the Resolution Run/Walk/Roll encourages participants to kick off their New Year in a healthy way while supporting the local food bank.

Participants have the choice between an easy out-and-back 5K course on Main Street, or the indoor track at the Acadia Sports Complex.