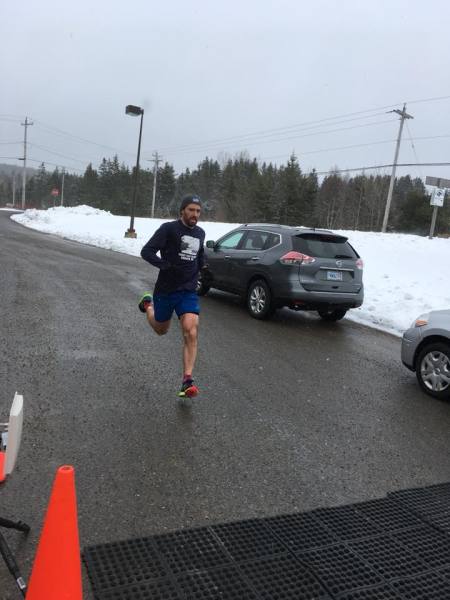 Numbers up for Long John Jaunt

Lalanne, Scattolon tops in half marathon

By Andrew Wagstaff

Maritime Runner
March 25, 2018
BOULARDRIE, N.S. – It was a near perfect day here yesterday for the Long John Jaunt and, if organizers could control the weather, it would have been, according to race director Cyril MacDonald.
"There was a strong tailwind on the way out, but a fierce headwind to return," he said. "There were great runs and lots of happy runners, despite the wind."
Numbers were up from last year, thanks to the addition of a new 15K distance, according to MacDonald. Thirty-seven finished the half marathon, while 21 more finished the 15K.
Finishing first in the half was Justin Lalanne, with a time of 1:18:28.

Justin Lalanne finishes in first place in the half marathon at the Long John Jaunt in Boulardrie, N.S. yesterday, with a time of 1:18:28.

Photo courtesy of Cape Breton Road Runners on Facebook

"Having raced this course before, I knew what to expect," said Lalanne. "As we know, Cape Breton weather can be unpredictable. Despite the snowy, windy conditions, the temperature was favourable for this time of year.
"Overall, I was happy with my effort, given the conditions," he added.
Lalanne complimented MacDonald and all the other volunteers for doing a fantastic job organizing the run.
Finishing in second place was Andreas Burger, with a time of 1:23:45, followed by James Forsey at 1:27:42.
Coming first among females was Kim Scattolon, with a time of 1:38:38.
"It was a great event and organized extremely well," she said. "The volunteers were great, and the meal and the prizes were really nice."
North Sydney business Thyme Savour provided the post-run meal, which was a big hit with the participants.

Scattolon said the day was great for running, although the wind and snow in their faces on the return trip was a little nasty.

"I felt great, pace-wise, going out but I slowed a lot on my return," she said. "Overall, I was happy with my race, and feel blessed that I am able to run."

Finishing second among females was Julia Smith, with a time of 1:42:16, followed by Megan Austen at 1:42:26.
In the 15K, it was Donald Holder coming out on top with a time of 1:04:35, followed by Corey Deveaux at 1:09:51, and Gerard Ellis at 1:14:19.
The top female finisher was Jenn Shiner, with a time of 1:22:09.
"This is my favourite race of the year… lots of support from fellow runners, and the start of the season," she said. "Sometimes the best part of the run is reconnecting with friends and sharing a good meal."
Finishing second among females was Velda Aucoin at 1:27:50, followed by Karen Campbell at 1:28:11.
For complete official results by Limitless Race Timing, visit
here
.