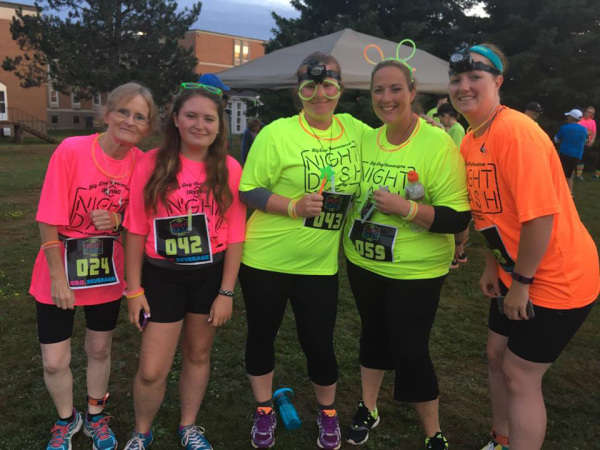 One of these nights

Annual event to benefit ParaSport and Recreation PEI

By Andrew Wagstaff

Maritime Runner
Aug. 8, 2017
CHARLOTTETOWN – The night life in Charlottetown will be a little more active on Friday, Aug. 11, and for a good cause.
The third annual Night Dash will be held to raise funds for ParaSport and Recreation PEI, and organizers are expecting about 100 participants to bring the event to life once again.
This year, runners can expect a little more illumination on the Confederation Trail section of the route.
"For the past two years, the highlight of the run was on the Confederation Trail because it was very dark," said Tracy Stevenson, executive director of ParaSport and Recreation PEI, a provincial charity that provides recreation and sports programs and events for people with physical and/or visual disabilities in the province.

The third annual Big Dog Convenience/Irving Night Dash will take place in Charlottetown on the evening of Friday, Aug. 11. Shown here are participants from last year's event.

Photo courtesy of ParaSport and Recreation PEI

"Runners wear neon-coloured T-shirts, headlamps and 'glow' apparel to light the way."
More than 30 volunteers lining the trail have also provided light and support for the event, which includes a 10K run and a 5K walk/run.
"This year will have a slightly different feel," added Stevenson. "The Confederation Trail has had lights installed along the trail so it will be much brighter, but we will still provide a fun experience."
On an island that is full of charity golf tournaments during the summer months, the Night Dash was created two years ago in an effort to join the recent trend of themed fun runs.
The title event sponsors, Big Dog Convenience and Irving, came on board in that first year and have remained solid supporters ever since.
"We wanted a race that provided a different experience," she said. "We also included an After 'Glow' Party (on-site) as part of the event. Runners can enjoy a fresh barbecue, and a beverage (alcoholic or non-alcoholic) while listening to the latest hits played by a local DJ immediately following the race."

The race starts at property of The Mount Continuing Care Community on Mt. Edward Road, with half of the route taking place on the Confederation Trail. It is a relatively flat and easy 5K loop, with one small hill near the finish line. The 10K course will be two loops of the 5K route.
The goal this year is to raise between $8-10,000 for the organization, which provides such programs as wheelchair basketball, wheelchair tennis, sledge hockey and much more.
Stevenson is hoping for a good turnout.
"We never really know what to expect from year to year," she said. "For our first year we had 125 participants, but last year we dropped to 80. It was a cold and rainy day for last year's event, which could be a reason for the lower numbers."
The event will get under way at 8:20 p.m.
For more on the Night Dash, visit
here
.