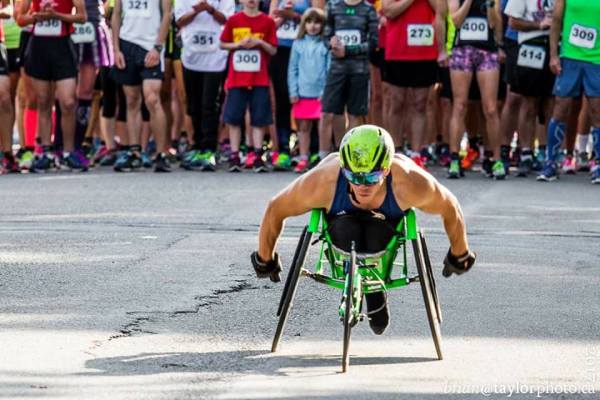 Paralympic hopeful Ben Brown to open Valley Harvest Marathon

Wheelchair category to be added to event next year

By Andrew Wagstaff

Maritime Runner
Oct. 5, 2017
WOLFVILLE, N.S. – His mind may be on Japan, but Sunday, Oct. 8 will see wheelchair athlete Ben Brown race in front of his home crowd at the Valley Harvest Marathon.
Brown, who has a race coming up in Japan later this month and also has his eyes on the Tokyo Paralympic Games in 2020, will race the 10K route at Valley Harvest, taking off just prior to the marathoners and ultra marathoners at 7:30 a.m.
"I will have a slower start than usual because of how it's set up," he said. "Once I get onto the road, I will pick up the pace and find a flow that allows me to go fast but maintain a strong pace and not blow up for the big hills."

Annapolis Valley wheelchair racer Ben Brown will open the races at the Valley Harvest Marathon on Sunday, Oct. 8, heading out on the 10K just prior to the 7:30 a.m. start of the full and ultra marathoners.

Photo courtesy of Ben Brown

Valley Harvest will serve as a tune-up for Brown's race in Oita, Japan on Oct. 29, when he gets his new racer. He will decide next week whether to race the full or the half marathon there.
But for now he is focusing on Sunday.
"A personal best would be awesome," said Brown. "Two out of three hills will be tough and I am a decent hill climber. I am getting better."
His current personal best in the 10K came at the Peachtree Road Race in Atlanta, Georgia, where he took off in front of 55,000 people and finished with a time of 25:45.
Because of the staggered starts of the different distances at Valley Harvest, race director Susan Carbyn said her biggest challenge was trying to figure out when to start Brown.
"If he goes out a couple minutes before the 10K runners, he's going to
run into the half marathoners because they wouldn't be out of town," she said.

"Then, when he makes his turn to come back, he'd hit a wall of 10Kers."

Having him start just before the ultra and full marathoners means he will only meet 100 or so runners on his way back, instead of a thousand. The half marathoners will not start until Brown crosses the line, she said.

"When he finishes on the track, all the runners will be in the middle of Raymond Field, cheering him on," said Carbyn, who said she plans to add a wheelchair category to the event next year.
That's great news to Brown, a valley boy raised in Weston and living in Cambridge.
"I love it," he said. "I want to see the sport grow locally and globally. I hope we can host a big enough race to get all comers to come here."

For more on the Valley Harvest Marathon, visit
here
.