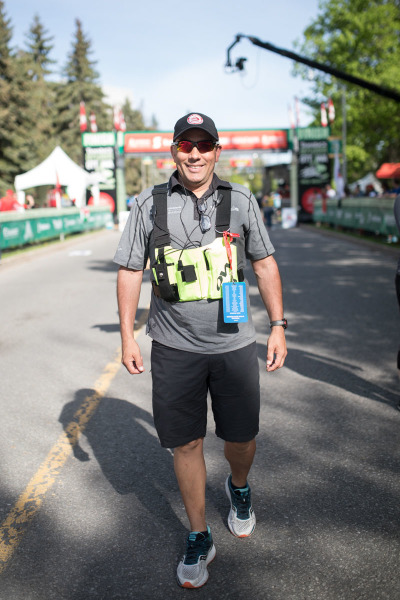 Race directors gathering in Moncton to share ideas

Atlantic Canada Race Directors Summit taking place Dec. 9

By Andrew Wagstaff

Maritime Runner

Dec. 8, 2017
MONCTON, N.B. – Race directors from across the Maritimes and beyond will gather here this weekend to share ideas and discuss the latest in road racing.
Hosted by Run New Brunswick and Athletics Canada, in collaboration with Run Nova Scotia, the PEI Roadrunners Club and Race Roster, the 2017 Atlantic Canada Race Directors Summit will be held in the CEPS at the Universite de Moncton campus all day on Saturday, Dec. 9.
The event fits in with Run New Brunswick's goal of promoting road running and getting the best experience for participants, according to executive director Gabriel LeBlanc.

Run Ottawa president/race director John Halvorsen will be a guest speaker at the Atlantic Canada Race Directors Summit in Moncton, N.B. on Saturday, Dec. 9.

Photo courtesy of Run Ottawa

"We want to continuously educate, inform and share ideas with race directors on how to make their events better, and it's the same thing with the other provinces," he said. "We already have events that are among the best in Canada, and these are just some things we're doing to try and make our races stand out."
The day will feature a packed agenda of speakers, kicking off with Scotiabank Ottawa Marathon race director John Halvorsen, who will speak about logistics and best practices for races both large and small.

"John directs one of the best races in Canada – the Ottawa Marathon – and we're really looking forward to having him join us," said LeBlanc.
Also speaking in the morning will be Halifax Regional Police officer Scott MacDonald, who will give a talk focused on safety and security.
The afternoon session will include a session on event longevity from Terry Curley, race director for the Johnny Miles Running Event series, followed by Atlantic Chip owner Troy Musseau, who will discuss innovations in race timing.
Legs for Literacy race director Susan Edgett will also speak about community engagement, while an Athletics Canada update will be provided by John Lofranco, manager of off-track programs.

"A lot of the knowledge sharing will take place outside the classroom, when we have breaks, and get to talk," said LeBlanc.

 "Our goal is to help improve these races. At the end of the day, if they have better races, people are going to have better experiences with road running."

Moncton made a great site for the summit because of its central location, he explained, as it is within reasonable traveling distance for people from all three Maritime Provinces.
Twenty-five delegates have registered for the summit, with a few more possible before Saturday. More than half will be coming from Nova Scotia.
Among those taking part in the summit will be Run Nova Scotia chairman Tim Duguay, who described it as a chance to learn from others and help others grow.
"One of the biggest reasons I want to support and attend is to learn about the next or most recent issues in safety concerns," he said. "As the sport of running grows, you want to make sure you are always up to date on safety."
Run Nova Scotia is always committed to ensuring the events in its series are correctly measured, safe and enjoyable, according to Duguay, who said anything they can share with other race directors could be helpful.
For more on the race directors' summit, visit
here
.