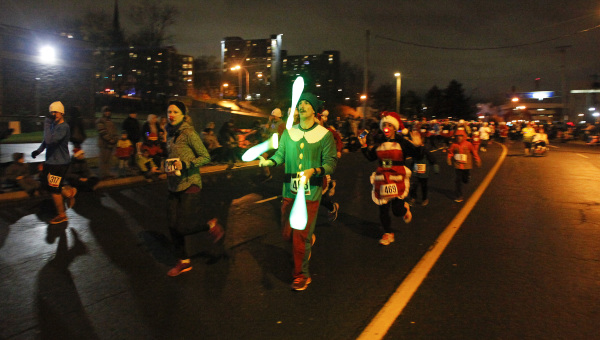 Red Nose Run to light up

Halifax Nov. 18

Pre-parade tradition held in support of QEII Foundation

By Andrew Wagstaff

Maritime Runner
Nov. 9, 2017
HALIFAX – Before Santa Claus and the rest of the Holiday Parade of Lights make their way through downtown Halifax on Saturday, Nov. 18, hundreds of runners will pass through the route as part of the third annual Red Nose Run.
Organized by the Holiday Parade of Lights Society, the event is held in support of the QEII Foundation, and race director Grant Walker is looking forward to another fun event, hopefully without any rain this year.
"What's exciting about this race is that so many people get dressed up for it," said Walker. "They come as Christmas trees… I don't know how they run as a Christmas tree, but they do. It's a really, really fun event."

The third annual Red Nose Run for the QEII Foundation will take place in Halifax on Saturday, Nov. 18. Shown here are participants during last year's event.

Photo courtesy of Becky Grant

The run takes place at 6 p.m., just prior to the start of the annual parade.
Many of the runners don blinking red noses and costumes, and run the entire 2.6K parade route from Upper Water Street, over the Cogswell interchange to Barrington Street, onto Spring Garden Road, South Park Street and University Avenue before finishing up by Dalhousie University's Faculty of Dentistry.
The runners get to feed off the energy of the crowd of about 100,000 people along the parade route, people of all ages who are already excited about Santa's pending appearance.
"The first year, they didn't know what the heck was going on," said Walker. "They thought the parade route had been hijacked, or something. For the second year, we added a PA system to the lead vehicle, to tell people what it was, and that the parade was just behind the runners."
That went over well, and the run is now a part of the parade tradition. Five dollars from each runner's registration goes to the foundation, to help transform care at the QEII Health Sciences Centre.

At only $35 per entry, the registration also includes great swag, such as a medal that can be turned into a Christmas tree ornament, and a Christmas scarf.

But what makes the run memorable is the atmosphere, according to Walker.
"Spring Garden Road is all decked out with Christmas decorations, and the stores pretty well have them all up, so it makes for a real festive and brightly-lit street to run on," he said. "University Avenue is covered in overhanging trees, so we're adding some extra lighting to brighten up the finish line a bit."

A strong turnout is needed to make it a successful fundraising event for the foundation, according to Walker, who said there is room for 800 participants.
For more on the Red Nose Run, visit
here
.