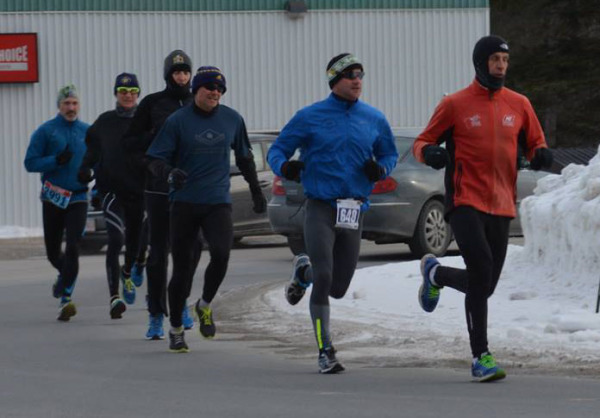 Remembering David Morris

Miramichi River Runners hosting memorial 5K on Feb. 11

By Andrew Wagstaff

Maritime Runner
Feb. 5, 2018
MIRAMICHI, N.B. – More than 12 years after his passing, David Morris continues to be remembered by the Miramichi River Runners.
"He was a long standing member of our running group, dating back to the original days," said Brian Richard, another original member of the club, which started back in 1984. "He was well liked by all, a real nice guy."

Morris, a local lawyer and owner of the Opera House nightclub, passed away in August of 2005. Every year since, the club has held its February 5K race in his memory. This year's David Morris Memorial 5K will take place on Sunday, Feb. 11.

Sylvain Arseneau led the pack last year's David Morris Memorial 5K in Miramichi. This year's race will take place on Sunday, Feb. 11.

Photo courtesy of Brian Richard

Turnout at the event will depend on whatever Mother Nature decided to serve up on Sunday. Last year's run drew a small crowd of 26 due to extreme cold temperature, which dipped to about -25C on race day.
Last year's race was won by Sylvain Arseneau, with a time of 18:40, while Tanya Wood finished as the top female at 24:26.
More recent participation numbers are more encouraging. Last month's Brian Richard 5K in Miramichi drew a respectable 36 runners despite its own winter weather conditions.

"Everything depends on the weather in the winter," said Richard. "It depends how cold it is, and if it's snowing. All we can do is wait and see."
For more on the David Morris Memorial 5K, visit
here
.