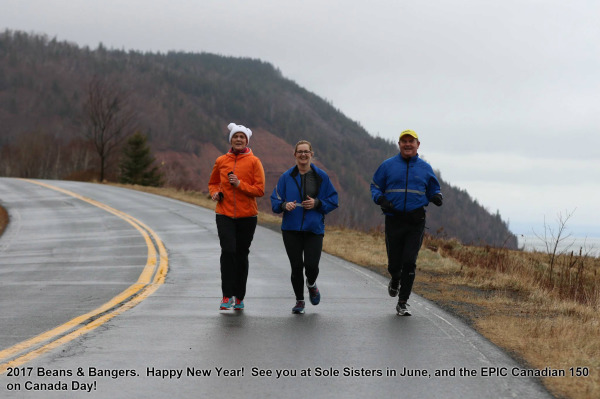 Ringing in 2018 with beans

and bangers in Blomidon

New Year's Day tradition helping local classrooms

By Andrew Wagstaff

Maritime Runner
Dec. 27, 2017

CANNING, N.S. – It all started when Sean Dixon met Luke MacDonald.
Dixon was getting more into running, and was looking for the right pair of shoes at MacDonald's Halifax store, Aerobics First.
Through the course of the visit, Dixon learned about Spark Bikes, a program putting stationary bicycles into school classrooms to help children learn in an active environment.
"I thought, I need to do something to find a way to buy a few Spark Bikes for schools in our area, and try to be a little bit of a pebble in the pond," he said. "If we buy a few, it would encourage schools to get more of them because they would see how good they are."

The annual Beans and Bangers in Blomidon event will take place in Canning, N.S. on Monday, Jan. 1. Shown here are participants during last year's event, a New Year's tradition hosted by Sean Dixon at his home.

Tim Chesnutt photo

With the help of MacDonald and Jeff Zehavich, he came up with Beans and Bangers, a New Year's Day run hosted at his home in Canning and taking in the view of beautiful nearby Cape Blomidon.
Runners and walkers an go whatever distance they choose, up to 10K, and if they choose to go the full distance, they can toast the New Year with two glasses of chilled champagne overlooking the bay. Post-race festivities are hosted at Dixon's barn, where refreshments include baked beans and bangers (sausages).
The event is capped at 100 participants, to keep it an intimate experience, he explained.
"Beyond 100 people it becomes… not what we ever looked for," said Dixon. "We never wanted it to become this uber New Year's Day running event where they run, get their swag and go, or a small running group that heads off to breakfast on New Year's Day.
What we're saying is, 'You're here, we're going to feed you… connect. Start your year in an amazing way'," he added.Local women made the beans, sausages were bought at cost from the Canning meat market, and Just Us coffee roasters provided the coffee. A gantry that was used by Aerobics First and The Trail Shop was borrowed, and the event was ready to go.

That first year, 65 people showed up from Halifax, other areas of the province, and locally. Between $1,500-1,600 was raised from the event, and other fundraisers later in the year helped buy several Spark Bikes for local schools.

Not everyone was convinced about the bikes, according to Dixon.
"There was one school board member who was thinking this was completely voodoo science," he recalled. "He didn't think these would work at all. Three years later, they have them in every classroom at this elementary school."
Instead of Spark Bikes this year, proceeds will purchase Hokki stools, another classroom aid aimed to engage the mind and body of children while learning
For the second year of the event, cookies the size of saucers were decorated and handed out as medals. Last year, a bagpiper showed up. A few brave souls even jumped into the ocean with Dixon prior to the run.
"We just allow people the opportunity to have an experience, that's all," he said.
For more on Beans and Bangers in Blomidon, visit
here
.