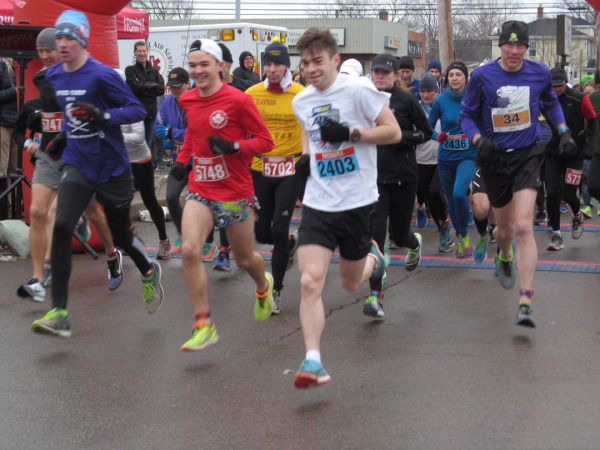 Robertson, Vessey

win Bunny Hop 10K

Long-running Easter tradition continues in Charlottetown

By Andrew Wagstaff

Maritime Runner
March 31, 2018
CHARLOTTETOWN – Easter weekend was celebrated here today with one of the island's oldest races, as more than 100 took part in the annual Bunny Hop.
The day's events include 10K and 5K races over a flat out-and-back from the Dairy Queen in downtown Charlottetown, as well as a 300m kids' run.
Nick Robertson picked up from where he left off after winning last month's Freeze Your Gizzard 10K race in Montague, this time winning the Bunny Hop 10K in a much faster time of 36:06.
"It was a much flatter and faster course, and the weather was great," said Robertson. "It was also very nice to have some other people to race with."

A 40-year-old Easter tradition continued in Charlottetown today with the annual Bunny Hop Easter Race. The 5K and 10K races drew more than 100 participants, raising money for Easter Seals.

j. norman-bain photo

The Bunny Hop is a favourite race for Robertson, who said it was well organized, with a lot of great runners.
"I'm very happy with my time and placing, and am very grateful to race alongside such great athletes," he said. "It's awesome to finally make the switch in my career from 5 to 10K, and I'm excited to see what the future brings."
Finishing in second place was Vincent Merriam, with a time of 36:29, followed by Mike Peterson at 37:01.
Finishing first among females was Leanne Vessey, with a time of 40:42, followed by Charlotte Gardiner at 41:33, and Maureen Peters at 45:39.
In the 5K race, Alec Brown cruised well ahead of the pack to win the race with a time of 17:40.
"It was a good race today, especially for getting back into the swing of things," he said. "The weather conditions were nice… it ended up being just warm enough for shorts and a T-shirt."

Brown likes the course for its fast finish, as the last 300m is mainly downhill.
Finishing in second place was Samuel Peterson, with a time of 19:20, followed by top female finisher Tori Fitzpatrick at 19:32. Finishing second among females was Michaela Walker at 20:30, followed by third place male Phil Byrne at 21:40, while third among females was Tatiana Kelly at 22:18.
For complete, official results by Atlantic Chip, visit
here
.
A total of 56 finished the 5K race, while 49 more crossed the line for the 10K.
Running since 1978, the Bunny Hop marks the beginning of the spring racing season for many on the Island. This year's event was once again held as a fundraiser for Easter Seals, to help children with disabilities.