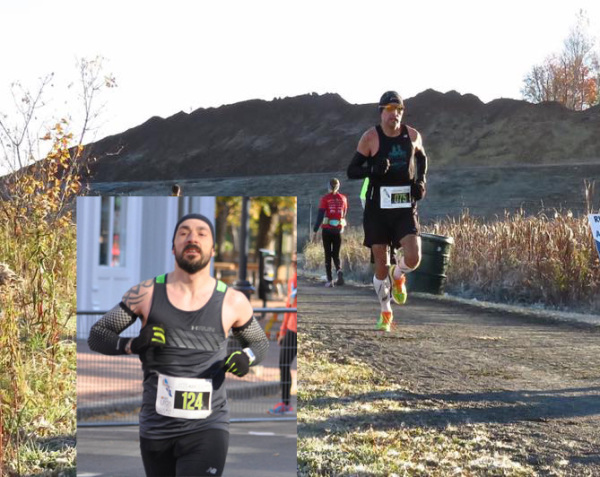 Roy withdraws from Legs marathon results

LeBlanc new winner after rule violation reported

By Andrew Wagstaff

Maritime Runner
Oct. 31, 2017
MONCTON, N.B. – Lee Roy wants everyone to know he is not a cheater. And then he wants to move on and forget his race at Legs for Literacy on Oct. 22.
After winning the marathon at the Moncton event this year, the Bathurst runner withdrew his name from the results over the weekend, after being informed he had broken the rules by having his coach – an unregistered runner – pace him for part of the race.

"I was in no intention trying to cheat," said Roy, on Monday. "And I was unaware of the rules. But it was my responsibility to know the rules, so, for breaking the rules, I felt like the right thing to do was ask for my name to be taken off the results.
"It's a shitty deal, but I broke the rules and I am willing to take full responsibility for my actions," he added.

Daniel LeBlanc of Dieppe, N.B. was declared the new winner of the Legs for Literacy marathon in Moncton on Oct. 22, after Lee Roy (inset) withdrew his name from the results.

Roy finished the race with a time of 2:39:53, just 13 seconds short of the course record, and 1:24 ahead of Daniel LeBlanc of Dieppe, who is now the 2017 champion with his solid 2:41:17 effort.

Roy congratulated LeBlanc and apologized for "all the drama."
LeBlanc said this morning that he had huge respect for Roy, and described him as a "great athlete."
"It's been an interesting few days, for sure," he said. "Nothing changes my respect for Lee or my love of the sport."
As for his race, LeBlanc said training had been going well for the previous few months, so he knew it could be a good day for him.
He recalled the race in detail, right down to his usual pre-race routine and greeting other runners like Roy and Remi Guitard at the start line.
"The horn goes off and it's the quickest start I've ever done," said LeBlanc. "I knew I was moving but it felt OK so I didn't worry about it. I just kept following Lee from afar and seeing the red flickering light from the lead bike."

He crossed the halfway point at 1:18:30 and said he still felt good, but
his hands were frozen to the point that he kept dropping the plastic
cups at the water stations. After seeing his family at the 29K mark, he
said he just took it a kilometer at a time, and his calves started to
tighten at around the 37K mark. At 40K, he looked at his watch.

"At the time, I didn't think I could catch Lee, but I swear I saw the lead bike light in the last few kilometers… or maybe my mind was playing tricks on me," said LeBlanc. "Either way, I was happy to have finished faster than expected."

He is continuing his training, and will race at the Pirate Elite 5K in Upper KIngsclear on Nov. 26, and will compete at the 2018 Boston Marathon on April 16.
With the change in results, Guitard now moves into second place with his time of 2:49:24, while Michael Peterson of Charlottetown takes third place at 2:50:38.
For Maritime Runner's full article on the event, visit
here
.
The announcement regarding the marathon came only days after Legs for Literacy announced that its half marathon race was long by 128.6 meters due to an error in the placing of a turnaround marker. That race was for Run New Brunswick's provincial championship in the distance.