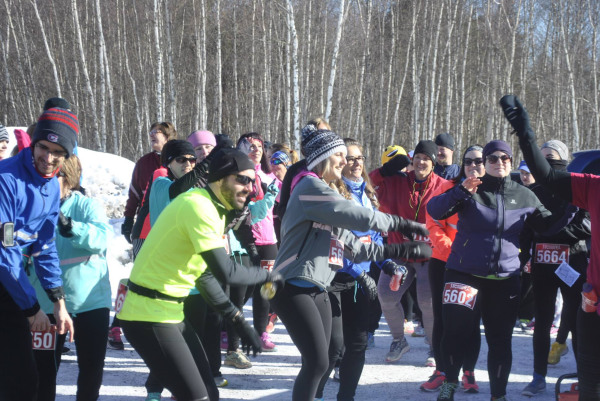 Running for inclusion in Moncton

Annual fundraiser returns on March 17

By Andrew Wagstaff

Maritime Runner
March 13, 2018
MONCTON, N.B. – The numbers will be smaller, but the cause will be just as important, as the annual Move 2 Include run takes place here on Saturday, March 17.
The 10K run and 5K run/walk is a fundraiser for Inclusion Advocacy South Eastern New Brunswick, a family-based organization that assists people with intellectual disabilities and their families in advancing inclusion in their own lives and in their communities. This can include advocating for them in the school system, or helping them navigate their way through social services or other areas of need.

Last year's event drew a capacity crowd of about 100 participants, but this year will be smaller, according to race director Terry Hawkes.

The annual Move 2 Include run/walk will take place in Moncton, N.B. on Saturday, March 17. Shown here are participants warming up prior to last year's event.

Photo courtesy of Inclusion Advocacy on Facebook

"Unfortunately, we are down in numbers this year to about 30," he said, late last week. "I guess the Running Room did not have as many people in the clinics this winter, but that's the way it is. We are still giving the finisher medals."
The event has been taking place for more than a decade, as one of three major fundraisers for the organization throughout the year. Inclusion Advocacy relies entirely on community fundraising.

The course gives runners a unique opportunity to race in the north end of the city, around the subdivisions of Rural Estates and Wintergreen Estates. It is known as a fast course, with plenty of flat and downhill sections.
Organizers have been fortunate with the weather in recent years, and are hoping for more of the same this weekend.
For more on Move 2 Include, visit
here.