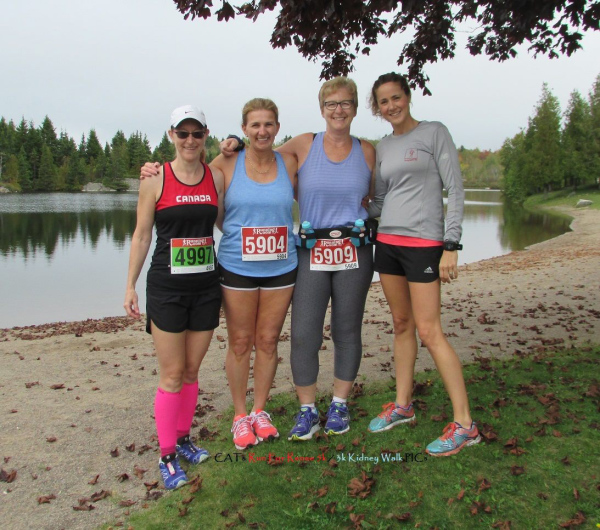 Running for Renee at

Rockwood Park

Monthly series presents $2,000 to kidney foundation

By Andrew Wagstaff

Maritime Runner
Sept. 19, 2017
SAINT JOHN, N.B. – When Dean Strowbridge and Carol Lynn Landry first talked about putting together a memorial run series for the kidney foundation in memory of his mother, they thought a goal of raising $10,000 over 10 years was reasonable.
Not even two years into it, they have raised $3,500, and are still going strong.
"So we're well ahead of that goal," said Strowbridge. "That's not to say every year is going to be great, as far as fundraising, but it's looking good so far."
The September Run for Renee 5K took place on Sunday, Sept. 17, moved from its regular Quispamsis location for this occasion to Rockwood Park in Saint John to coincide with the kidney foundation's annual Kidney Walk taking place there.

From left) Sarah Holland, Maureen Roy, Heather Shadbolt and Carol Landry were among the participants in the September Run for Renee 5K held at Rockwood Park in Saint John, N.B. on Sunday, Sept. 17.

Cat Smith photo

Following the run and the walk, Strowbridge presented $2,000 to the foundation, raised from the series so far this year.
Fourteen runners turned out for the event, running what Strowbridge admitted was a much tougher course than they would be used to at the Run for Renee.
"I was getting tired, just putting out the markers beforehand, because it's so hilly," he said, laughing. "But it's a nice course, and beautiful through there, with the trees changing colour. I love the course that way, but it's not exactly fast."
Only 14 runners turned out for this month's event, with Charles Smith first across the finish line at the 20:52 mark, followed by Scott Lee at 21:02, and Michael Lynch at 23:50.

The top female finisher was Gail Dornan, with a time of 24:43. She said she was more than happy to support the event and the kidney foundation.
"It was a friendly bunch of runners, enjoying beautiful trails in Saint John's awesome Rockwood Park," said Dornan. "Although the course was challenging with lots of hills, I think it was an enjoyable time for everyone."

Second among females was Sarah Holland at 26:19, followed by carol Lynn Landry at 26:48.

For complete results, visit the Run New Brunswick page
here
.
The
next Run for Renee 5K
will be back on the regular course for the Halloween-themed season wrap-up on Sunday, Oct. 29.