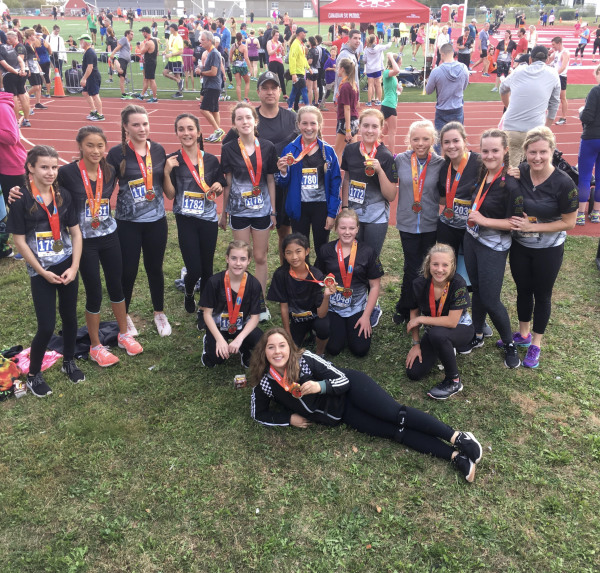 Running for ringette

Oct. 21 event helping send national teams to worlds

By Andrew Wagstaff

Maritime Runner
Oct. 16, 2017
DARTMOUTH, N.S. – Next month Canada will send its junior and senior national ringette teams to the world championships in Mississauga, Ont., a fundraising 5K run will take place this weekend to help send them there.
The Road to Worlds event will be held at Shubie Park in Dartmouth on Saturday, Oct. 21, and Ringette Nova Scotia president Jody Trethewey is hoping to raise funds for the upcoming world championship, but also go beyond that primary goal.
"My second goal for this race is to promote ringette in Nova Scotia," said Trethewey. "We are a sport primarily with members in the Halifax region, and Berwick and Eastern Shore."

Ringette – Road to Worlds will take place at Shubie Park in Dartmouth, N.S. on Saturday, Oct. 21, as a fundraiser for the junior and senior national teams that will be taking part in world championships in Mississauga, Ont. next month. Shown here are Nova Scotia ringette players at the recent Valley Harvest Marathon event.

Photo courtesy of Jody Trethewey

This past summer, she started a running club with help from coach Scott MacDonald for her players to promote fitness and activity during the off-season. Supported by Doctors Nova Scotia, the club was open to players between the ages of 12 and 16, and also their parents and siblings.

"I was looking for a summer-end 5K event to set an end goal and register the group for," she said. "A coach from Alberta, Murray Pettem, contacted me to see if I was interested in directing a race in Nova Scotia. I jumped at the opportunity, as it fell in place with what I am promoting with my young ringette players."
For the past few months, Trethewey has been working with her counterparts in Alberta, Manitoba and Ontario to plan running events in all of their locations. The initial idea was to hold all of the events on the same day, Oct. 7, but she decided to hold off on the Nova Scotia event for a couple weeks to avoid conflicting with the Valley Harvest Marathon weekend.

Instead, she and the Nova Central U14AA team she coaches took part in the Valley Harvest event as part of a team-building weekend. After a sleepover, the girls all ran the 5K.

 "I am working hard to motivate my team into incorporating running as part of their regular fitness plans," said Trethewey. "For most girls on my team, this is their first introduction to running and they are already looking forward to their next event."
That chance will sort of come this weekend, when the team will be working as volunteers at the Road to Worlds race. Among those on hand will be Halifax area player Grace Mackenzie, a goalie and the only Nova Scotian on this year's junior national team.
Starting at Fairbanks Center in Shubie Park, the race will include 5K and 1K run/walk events, and is also open to team registration. Trethewey is hoping for between 100-200 participants, with plans to expand next year.
For more on Road to Worlds, visit
here
.