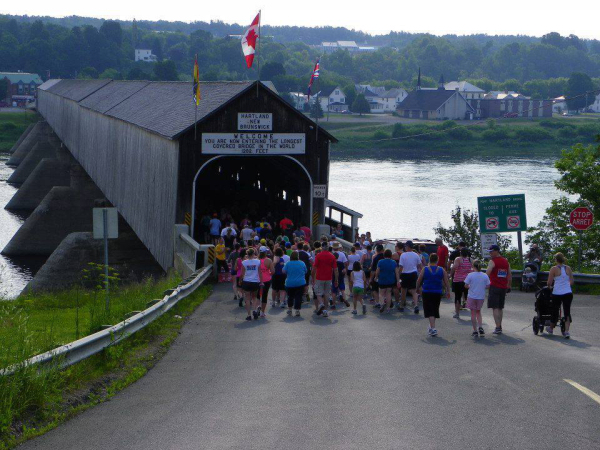 Running over the world's longest covered bridge

Annual community event well received in Hartland

By Andrew Wagstaff

Maritime Runner
June 14, 2017
HARTLAND, N.B. – Many people know that Hartland, N.B. is home to the world's longest covered bridge, but not everyone knows it also hosts the world's longest run over a covered bridge.
The fourth annual Covered Bridge Run took place on Sunday, June 11, and organizers declared it a success, with about 150 taking part.
"It went really well," said race director Stephanie Paul. "We had a great turnout despite the crazy hot weather."
The 10K and 5K run/walk starts off by going across the famous 391-metre bridge, then continues on a flat course along the beautiful St. John River before winding up in the town of Hartland.

The fourth annual Covered Bridge Run took place in Hartland, N.B. on Sunday, June 11, with about 150 people taking part.

Photo courtesy of Stephanie Paul

The idea for the event came from Paul and a few friends.
"Basically, it all started with four women from Hartland who wanted to bring an event like this to the community," she explained. "Most of our neighbouring communities have events, so we thought, why not?"
The event, which also features a 1K kids' run, is put on each year by the organizing committee in partnership with The Running Room, and with support from the town of Hartland and its recreation department.
"The goal is to have a community-friendly event that focuses on health and wellness and promotes the beautiful Town of Hartland," said Paul.

"Ultimately, it would be nice to expand to longer events. We want to appeal to all runners."
It seems to be a hit with those who participated this year, including Tobi Doucette-Corey, who said it is one of her favourite runs.
"I love this little race," she said. "The organizers work hard to make sure everything goes smoothly. There was also a good breakfast for the runners after. The opportunity to run through the bridge and by the river is just so nice and peaceful."
With the town celebrating its 100th anniversary next year, Paul said planning would start right away to make the fifth annual Covered Bridge Run bigger and better.