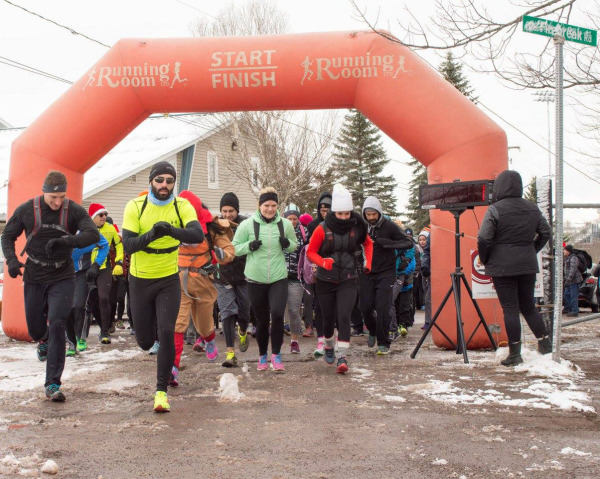 Running with a turkey

on your back

More than 200 expected for annual Moncton charity event

By Andrew Wagstaff

Maritime Runner
Nov. 30, 2017
MONCTON, N.B. – More than 200 Christmas turkeys will be going to families in need here after this weekend's Expert Turkey Run, but first the turkeys will be running 5K, with a little help from event participants.
"We're in our fourth year, and it's growing every year," said race director Mathieu McCaie. "We should have over 200 this year, so it's slowly starting off."
The event will take place on Sunday, Dec. 3.

It all started a few years ago, when McCaie and the staff at his mortgage brokerage firm, Expert Mortgage Group, decided to collect turkeys for the annual Sue Stultz & Local 999 Moncton Firefighters Association Turkey Drive.

The fourth annual Expert Turkey Run will take place in Moncton, N.B. on Sunday, Dec. 3. Shown here are participants during last year's event.

Photo by James Vaughan

They decided to do it again the following year, but to make it more interesting.
The result was the Expert Turkey Run, a 5K trail run at Moncton's Centennial Park. The twist is that you need to bring a turkey, and carry it in a backpack during your run. When the event is finished, all of the turkeys get collected and delivered to the toy drive drop-off location, conveniently located across the street.
"We like to have 10-pound turkeys," said McCaie. "These are for families in need, so if you have 20-30-pound turkeys, it kind of defeats the purpose."
That does not mean participants have not taken part in a more extreme fashion in the past. Cam MacKinnon carried more than 100 lbs of turkey in a hockey bag on his back, basically hiking the 5K route a couple of years ago. Others have done it with 60-70-pound. turkeys, but 10 is the optimum family size.

The first Expert Turkey Run drew about 75-80 participants, and continues
to grow every year. It now features a corporate challenge, in which
companies pay $100 to enter their team, and the one collecting the most
turkeys wins.

"Last year, Crossfit Maritimes won with over 40 turkeys, 435 pounds," said McCaie. "That's 435 meals."

While no one should expect to run a personal best while carrying a turkey on their back, the route at Centennial Park is quite flat, with only one hill, and is always cleared of snow.
Also featured will be a 1K walk, which many participate with children and dogs, pushing a turkey in a stroller.
The event will kick off at 10 a.m. with the weighing of the turkeys for the corporate challenge, and then the run at 11 a.m. Pizza and water will be provided post-race, with everything wrapped up around 12:30 p.m.

"It takes quite a bit of time to organize the event but it's fun," said McCaie. "We started it, so we take pride in it."
For more on the Expert Turkey Run, visit
here
.