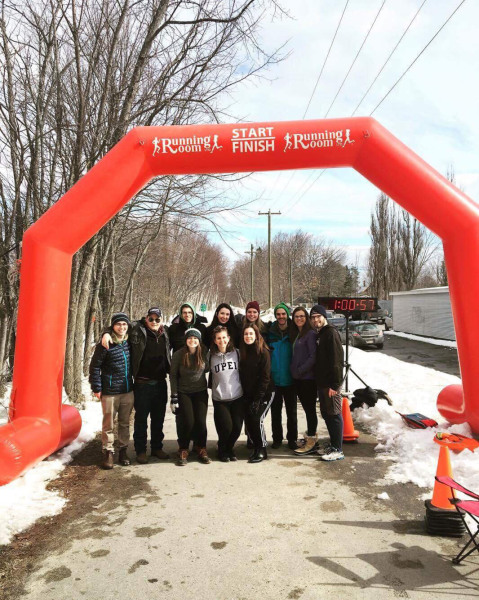 SPRING time in Fredericton

Goal of UNB group to send child to Camp Rotary

By Andrew Wagstaff

Maritime Runner
March 15, 2018

FREDERICTON – In only its second year, the UNB SPRING Run/Walk is already getting bigger and better.
The annual event, which will take place in Fredericton on Saturday, March 24, has added a 10K option, and is hoping to raise enough money to send a local child to Camp Rotary this year.
"We had a lot of sign-ups this week, so right now we have about 30 people, and we're hoping to double those numbers," said Patrick Gallagher, one of the organizers. "But with students and stuff, people don't usually sign up until the last week before the run."

The second annual UNB SPRING Run/Walk will take place in Fredericton on Saturday, March 24. Shown here are the group's volunteers at last year's event.

Photo courtesy of Patrick Gallagher

The UNB SPRING (Students Pairing to Reach Individual Needs and Goals) is a student-led initiative that pairs up university students with children who have complex health conditions for a weekly two-hour gym/swim program.
The 5K run was started last year to raise funds to sponsor children in the program, and help pay for equipment and supplies.
"This year the goal is to send someone to Camp Rotary on Grand Lake, which is a specialized camp for people of all abilities, but specifically designed for children with special challenges," he said. "In the long term, this run will provide us with exposure to get more funds for the program."
Last year's inaugural event drew 50 runners, and Gallagher would like to see around 70 take part this year. A more affordable registration option without a T-shirt is also available.
Although it is organized by students and promoted on campus, he said last year's event drew more runners from the general community.
"We do the run through the Running Room and we spoke to local running clubs last year, so we're doing that again this year," he said.

"Usually, depending on how the weather looks, a lot of people sign up from those clubs. For a lot of runners, it's the first run of the season, so we do get a lot of dedicated runners."
Many runners last year said they would like to see a 10K option, so the organizers decided to offer it last year. The out-and-back route remains the same, beginning at the walking trail beside the Lady Beaverbrook Arena near the bottom of the UNB campus, crossing the walking bridge onto the north side. The 10K route will just extend 2.5K more along the paved trail before turning around.
Having only started the SPRING program last year, Gallagher said the run is an important part of their activities.

"It's really a celebration of the program, in a lot of ways," he said. "A lot of people don't know about us yet, so it's good to get a lot of people talking about the program. Our goal someday is to have enough revenue to buy more specialized equipment for the children in our program."
For more on the UNB SPRING Run/Walk, visit
here
.