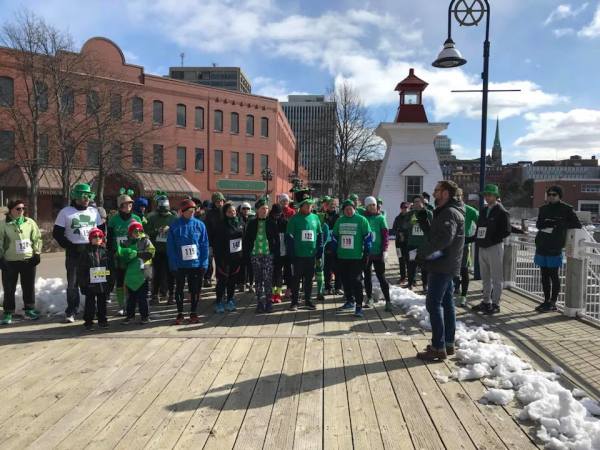 St. Paddy's Dash celebrates

25 years at Pete's Pub

More than $700 raised for cancer society

By Andrew Wagstaff

Maritime Runner
March 17, 2018
SAINT JOHN, N.B. – A downtown Saint John tradition for a quarter century, the annual Pete's Pub St. Paddy's Dash took place here today, raising more than $700 for the Canadian Cancer Society.
"It was cold and windy today, so our numbers were a little lower, but still good," said race director Alex Coffin. "Everyone had fun!"
A total of 63 runners completed the fun run, which takes in Saint John's Harbour Passage area for a total of 3.7K, starting and finishing at Pete's Pub, where a post-run gathering offers chili and refreshments.

The annual Pete's Pub St. Paddy's Dash took place today in Saint John, N.B., with more than 60 participants in spite of the cold, windy conditions. More than $700 was raised for the Canadian Cancer Society.

Photo courtesy of Alex Coffin

"This event was a lot of fun," said Dean Strowbridge, who was the top finisher, with a time of 12:38. "Alex did a great job organizing it, and all the proceeds go towards cancer, which is nice."
Considering the winter conditions, Strowbridge said he was impressed with the turnout, and enjoyed the positive atmosphere.
"I had a really good day, and was somewhat surprised my time was what it was, because of the layers I had to wear and the wind and the cold," he said.

"I loved the out and back because of the support from other runners, and it was nice seeing everyone smiling and enjoying themselves. I'm looking forward to doing this race again next year."
Alex Bates finished in second place with a time of 15:02, followed by top female finisher Marcie Holland at 15:28. Second among females was Maryro Mendez at 17:09, followed by Amelie Aikman at 17:37, while third among males was Joe Cormier at 17:38.