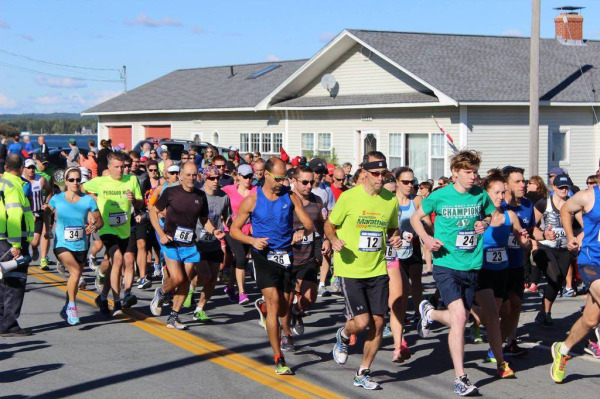 Time for some rum running

Annual relay returns for 33rd year on Sept. 30

By Andrew Wagstaff

Maritime Runner
Sept. 27, 2017
LUNENBURG, N.S. – It's kind of like the Cabot Trail Relay, except without the mountains, the overnight legs, and the Maine-iacs.
In fact, the Rum Runners Relay – which will take place this year on Saturday, Sept. 30 - predates its Cape Breton cousin by a few years, and served as the model for its format. Both events were conceived by the Gonzo Runners, now known as the Gonzo Adventure Club.
Both feature 70 teams, and a moving start/finish line, although Rum Runners consists of 10 legs, most of them shorter and less challenging than Cabot Trail's 17.
Rum Runners race director Nancy Holland is involved with both events.

The 33rd annual Rum Runners Relay will take place from St. Margaret's Bay to Lunenburg, N.S. on Saturday, Sept. 30. Shown here are runners kicking off Leg 9 during last year's event.

Photo courtesy of Rum Runners Relay on Facebook

"I think what Rum Runners has going for it, is it's more accessible than Cabot Trail," she said. "I think a lot more fun can be had at Rum Runners Relay. Cabot Trail is pretty intense, and intimidating to a lot of people. Rum Runners is more accessible in general, because the distances are not as long, the legs are not as hard, and it's always in the daylight."
That is, except for the very beginning of Leg 1, which is still pretty dark when it kicks off at 6:30 a.m. That one starts at the Prospect Road Community Centre in Hatchet Lake, and the relay finishes up 10 legs, 110 kilometres and about 12 hours later at the Bluenose Academy in Lunenburg.
Preparations have been going well for this year's race, although Holland is concerned about some of the roadwork taking place along the route.
"It's not so bad in Chester because it will be daylight," she said. "But the entire entryway to where Leg 1 starts is completely torn up. So that's going to be very interesting in the dark."
How do you work around that kind of problem?
"Lots and lots of headlamps," she said. "I'm going to be sending out pictures to the teams, and putting it on our Facebook page, telling them to please be aware, if you're running Leg 1, that there will be footing issues."

A few years ago, Rum Runners took on a lottery system for selecting its teams, similar to what the Cabot Trail Relay does, due to an overwhelming amount of applications coming in. However, it has since reverted back to a first come, first-serve format, opening up the application process between Sept. 1 and Oct. 15.
The event sees many familiar faces year after year, although team names often change or become something else.
"A lot of teams have been in the relay for a long time, or have morphed into different teams," said Holland. "We have an influx this year from the Mountain View Runners and the Halifax Road Hammers teams. We have five teams just from those two running clubs, so that's new, and yet a pile of people from both of those clubs are long-time relay runners."
In the very first Rum Runners Relay in 1985, 13 teams ran from Lunenburg to Halifax. Much has changed over the years, but the spirit of fun remains, and pleasant, early fall weather has been enjoyed on a fairly consistent basis. A recent spell of unseasonably hot and humid weather is expected to be over by Saturday, when temperatures between 6-13 degrees are being forecasted.
"That will be perfect for runners," said Holland.
For more on the Rum Runners Relay, visit
here
.