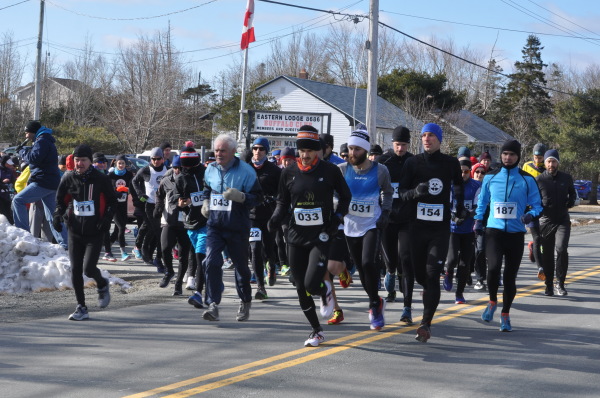 Tradition continues with

another record turnout

McNeil sets new course record at Moose Run 25K

By Andrew Wagstaff

Maritime Runner
March 18, 2018
EASTERN PASSAGE, N.S. – Another year, another record turnout for the Moose Run.
The annual 25K tradition in Eastern Passage/Cow Bay went off smoothly today under the leadership of new race director Mat Sabinski, attracting a record crowd of nearly 250 runners on a chilly but sunny morning.
"It's absolutely fantastic," said Sabinski. "Twenty-six years without a hitch, and I'm just glad to keep the whole event going. For 25 years Tom (Harmes) and Steve (McNeil) ran it, and I just feel honoured they let me keep the tradition alive."

The annual Moose Run 25K race took place in Eastern Passage and Cow Bay, N.S. this morning, drawing a record crowd of participants for the third straight year.

Andrew Wagstaff photo

Harmes and McNeil, who retired as race directors after last year's 25th anniversary event, were both on hand for today's race. Harmes was able to run 9K of the course as a participant.
Despite coming at a time of year when nice weather is far from guaranteed, the Moose Run continues to grow in popularity, something Sabinski attributes to the help of social media to easily spread the word, and to the event's simple approach.
"It started out as a training run for the Boston Marathon, so it helped to have a long distance run that people could do," he said. "There are no medals, no swag bags, and it really helps to just keep it as a barebones race. People just come and run."
Today's race included many runners who are preparing for this year's Boston Marathon, including Matt McNeil, who was the top finisher with a new course record of 1:25:18.

It was McNeil's first time at the Moose Run, and he found its hilly course and windy conditions a challenge.

"It was tough," he said. "The goal for a lot of us doing Boston was to come out and try to run marathon pace and we ended up doing that, except it was very inconsistent. The average pace was good, but, with the hills, some Ks were slow, some were fast."
Although he has had some injury issues to deal with over the winter, McNeil said he is feeling pretty good, one month out from Boston.
"I had to do most of my build cross-training, so I spent a lot of hours in the pool and on the bike, but it seems to be working," he said. "Now I just have a month to stay healthy and keep pushing."
Finishing in second place today was Matthias Mueller, with a time of 1:29:24, followed by Falko Vehling at 1:29:38.
The top female finisher was Erin Poirier, with a time of 1:47:37, followed by Rayleen Hill at 1:49:19, and Jennie Orr at 1:50:39.