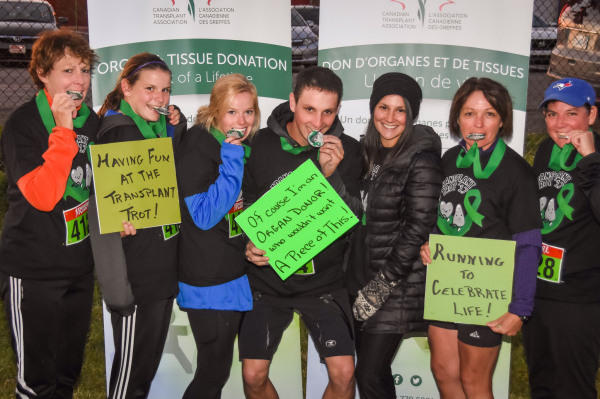 Transplant Trots raise more

than $10,000 in N.S.

Antigonish, Dartmouth, Westville events to return in 2018

By Andrew Wagstaff

Maritime Runner
Oct. 19, 2017
WESTVILLE, N.S. – Last weekend's three Transplant Trots all went so well, that Cindy Osmond can't pick a favourite.
"I'm happy with all three," said Osmond, president of the Nova Scotia chapter of the Canadian Transplant Association. "Antigonish, of course, was in their second year and they raised a little over $5,600, so money-wise they were our leader."
The 5K and 10K run/walk events took place in Westville on Friday evening, Antigonish on Saturday, and Dartmouth on Sunday. The three events drew a total of about 150 participants, raising more than $10,000 for the cause, which was to raise awareness about the need for organ and tissue donation, and to raise funds to support education initiatives for the association.

Transplant Troy fundraising run/walks took place last weekend in the Nova Scotia communities of Westville, Antigonish and Dartmouth, raising more than $10,000 for the Canadian Transplant Association. Shown here are finishers of the Westville run on Friday, Oct. 13.

Photo courtesy of Cindy Osmond

"All in all, they went very well," she said. "It was kind of nice, especially being in the fall. The leaves and things made for pretty runs."
One group from New Brunswick had a family member in the hospital in Halifax when they heard about the Dartmouth run on Oct. 15. They not only came by and participated; they also posted about it online and collected enough pledges to become the event's highest fundraiser.

This year was the first year of existence for the Nova Scotia chapter of the association, and the first year for the Westville and Dartmouth runs. Last year's Antigonish run sent its proceeds to the New Brunswick chapter.
One thing is for certain, it won't be the last for any of them.
"Definitely all three will be coming back next year, and maybe more," said Osmond. "Anything's possible."