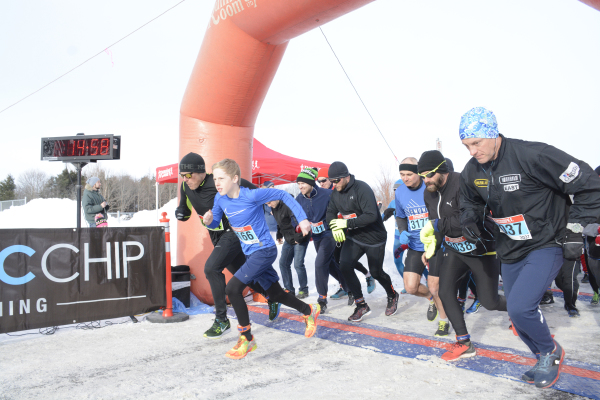 Treat your valentine to a

race in Amherst Feb. 17

Fifth annual event coinciding with town's winter carnival

By Andrew Wagstaff

Maritime Runner
Feb. 8, 2018

AMHERST, N.S. – A belated Valentine's Day tradition will continue in this Border town, as the fifth annual Amherst Valentine Run will return on Saturday, Feb. 17.
Coinciding with the town's annual winter carnival activities, the event will feature half marathon, 10K, 5K and 3K races. The event has been helping keeping people active in the winter since 2014, giving them a goal to train for through some dreary days, explained organizing committee member Rick McKenney.
"Most people quit around October after Legs for Literacy because they have no goal, but with an event like this, they think maybe they should get at that again," he said. "It's a reasonable price for people, and they're getting a meal, the run, a hat, a medal and it's chip timed.

The fifth annual Amherst Valentine Run will take place in Amherst, N.S. on Saturday, Feb. 17. Shown here are participants taking off at the start of last year's race.

It brings the community together too," added McKenney. "It's fun."
The races start and finish at West Highlands Elementary School, which also offers its facility for the post-run meal and the pre-race expo on Friday evening. All of the races except the 3K make use of the nearby Amherst Industrial Park, with its wide streets and light weekend traffic.
Routes will remain basically the same this year, although the half marathon has been given some slight tweaks to avoid one of the busier sections of road. That part of the course has been replaced by a loop in a quiet residential area.
"It will be a lot safer for everyone and more fun for everyone," said McKenney. "These streets aren't busy at all, while the other spot had railroad tracks and traffic so it was always a danger point."
McKenney and his wife, Rachna Minocha, are not only among the volunteers who plan and put on the event; they are also a key sponsor with their local dental clinic.

The majority of the event's proceeds will be donated to a number of non-profit community organizations, many of which will have representatives on hand as volunteers on race day. Groups involved include the Cumberland Sporting Club, the Amherst Youth Town Council, Bright Beginnings, the Cumberland YMCA and a local basketball team. The Amherst Fire Department also has trucks and personnel on hand for assistance.

Registration numbers are looking good for this year's event, which drew close to 200 last year and appears to be on track for a similar turnout. Last year saw a sunny day with a temperature around -3C, resulting in a large number of walk-on registrations.
"It all depends on the weather," said Rachna Minocha, "We'll pray for no snow, and no -30 degrees."
For more on the Amherst Valentine Run, visit
here
.