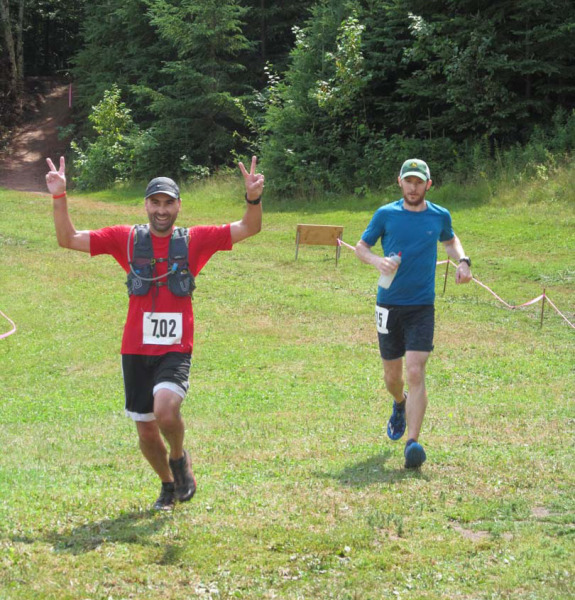 Weather brings no worry to Brookvale

Annual trail race draws impressive crowd

By Andrew Wagstaff

Maritime Runner
Aug. 7, 2017
BROOKVALE, P.E.I. – It rained. In fact, it poured. And it was one of the largest turnouts yet for the Brookvale Ultra Trail Races on Sunday, Aug. 6.
"We had a wet but great day," said race director Shawn McCardle. "There were no records broken, but fun had by all."
More than 140 registered for this year's event, and a total of 117 crossed the finish line in the 10K, 25K and 50K races.
The positive turnout proved that not everyone is deterred by wet weather.

"Personally, when I checked the weather Saturday and saw the rain in the forecast, I was stoked," said Caitlin Campbell, who finished as the top female in the 10K with a time of 1:06:00. "The wet muddy trails just added a whole other level of intensity."

Allen Chase (left) and Stephen Connick head for the finish line after completing the 50K at the annual Brookvale Ultra Trail Races in Brookvale, P.E.I. on Sunday, Aug. 6.

j. norman-bain photo

Campbell was thrilled with her race, even though she finished just one second ahead of second place female Rochelle Sullivan.
"It was great having someone with me the whole time to keep pulling me along," said Campbell. "Thanks to Shawn McCardle, the event was well organized as usual."
Finishing first overall in the 10K was Lucas Boudreau, making it his third win in as many weeks on the island running circuit.
He too did not mind getting a little wet for his efforts.
"It started pouring rain about 30 minutes before the race, which made everything super wet," said Boudreau. "Since we've been so dry, the water wasn't soaking into the ground, it was just kind of sitting on top, which made it a little sketchy as you were usually running through at least an inch of water in most places."

After running the 25K last year, Boudreau was in pursuit of the 10K course record this year, and opened up a gap at the start of the race.
"I knew it was going to be a fight in the weather, but with my Salomon shoes I had tons of traction when I was running," he said. "I came across the line in 47:50, just missing the record by 13 seconds, which hurt a little bit. But it was a good day overall."
He was followed by Raphael Amiot-Savard in second place at 51:01, and Darcy McCardle at 55:32. Top females were Campbell at 1:06:00, Sullivan at 1:06:01, and Stephanie Barry-Benedik at 1:08:00.
For complete results, visit the PEI Roadrunners page
here
.
In the 25K, it was Nicolas Thoulin finishing first with a time of 2:09:33, followed by Cory Birch at 2:16:55, and top female Heidi McLellan-Gautreau at 2:18:47. Third place male was Hector LeBlanc at 2:19:33, while second place female was Tanya Johnson at 2:47:47, followed by Danielle MacDonald at 2:55:54.
In the 50K, it was Steve Reeves finishing first at 4:38:23, followed by Angel Obregon Sierra at 4:52:55, and Tim McDonough at 4:53:16.
McDonough was coming off a sub-20-minute 5K at Lameque, N.B. the day before, part of a torrid schedule filled with road and trail training, and races in the Run New Brunswick Super Series.
"I believe that my road training helped me immensely at the Brookvale ultra, as it is a real brew of twisting single-track and rolling logging roads," said McDonough. "Brookvale is a really good race for the marathoner who wants to branch out into trail racing."
He added that Prince Edward Island might be the most beautiful place on earth, while also offering the most considerate volunteers he has experienced.
"My socks are red with the P.E.I. soil, and I don't really want them to come clean anyway," said McDonough.
The only two females finishers in the 50K were Marnie Oatway at 6:32:09, and Courtney Donovan at 6:57:31.