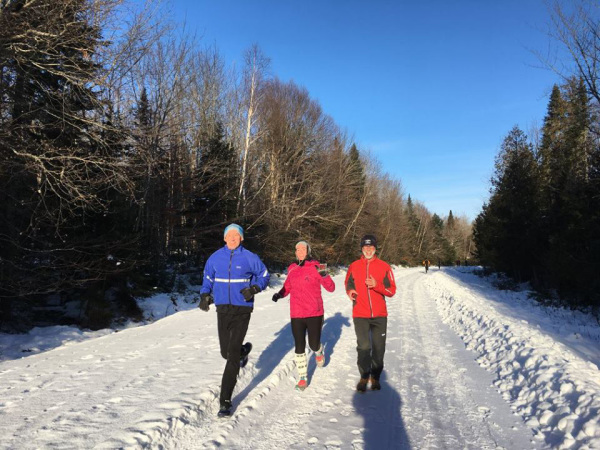 Who needs Honolulu?

Pick your distance at Capital City Road Runners event

By Andrew Wagstaff

Maritime Runner
Dec. 6, 2017

MACTAQUAC, N.B. – It may not be Hawaii, but the welcome will be just as warm for runners here this weekend.
The Capital City Road Runners will host the annual Not the Honolulu event at Mactaquac Provincial Park on Saturday, Dec. 9, and participating runners can once again pick their own distance.
"The idea of the run is you can run any distance you want," said race director Mike Stapenhurst. "Two miles, five miles, 10, 25 or full marathon… if you want to run 15K, just go as far as you want and that's it."

The annual Not the Honolulu event will be held at Mactaquac Provincial Park on Saturday, Dec. 9, hosted by the Capital City Road Runners. Shown here are participants during last year's event.

Photo courtesy of Jos Eijkelestam

For a time, the course was moved to a one-mile loop route near a forestry complex building on the south side of the city.

But for the past few years, the event has been held at Mactaquac Provincial Park. Although it's about a 30-minute drive from the city, the advantage is that it is off the highway. Runners are also treated to breakfast at the lodge nearby, and park staff is very accommodating.
"They are really helpful in putting it on," said Stapenhurst. "Last year we had a storm on the Friday, and they plowed it out. We were able to run, no problem."
Organizers are hoping for better weather this year, and so far the forecast looks promising. Stapenhurst is expecting a crowd of about 40-50 people.

It's a fun event, which is one of the reasons it has lasted so long, he said.
"The fun factor is one thing, but right from the beginning organizers have always tried to come up with fairly decent swag," he said. "Usually it's a sweatshirt, but there has always been some good gear."
For more on Not the Honolulu, visit
here
.
Longtime club members Rob Harrison and Mike McKendy started the event in 1990. One of the other members was running in the Honolulu Marathon that year, so they decided to have their own "Not the Honolulu" event.
"What made it different from the start is it wasn't a real race event," said Stapenhurst. "Although, in the early days it did get certified as a Boston qualifier, believe it or not. It's hard to imagine qualifying for Boston in the middle of December."
The course has changed over the years, originally including a jaunt down the Vanier Highway before cutting back and finishing at a fairly busy traffic area.
That route had its safety issues, Stapenhurst recalled.
"I remember one time in the old days, it was a snowstorm and a bunch of us were running down the Vanier Highway," he said. "The RCMP pulled over and told everybody to go home. It was just too dangerous."