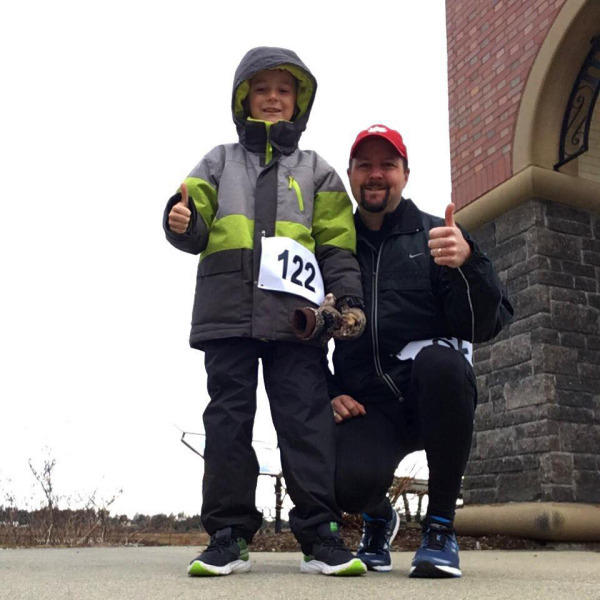 Working off the turkey

in Yarmouth

Ninth annual Boxing Day run well attended despite cold

By Andrew Wagstaff

Maritime Runner
Dec. 26, 2017
YARMOUTH, N.S. – Close to 100 runners and walkers didn't let the turkey get the best of them this year.
The ninth annual Boxing Day 5K Turkey Run took place in Yarmouth this morning, overcoming the hard bite of winter winds along with the extra calories to burn off thanks to Christmas dinner the evening before.
Scott d'Entremont participated with his son Sam.
"I participate in mostly all local runs if I'm in the area, but the breakfast and banquet is a very nice addition," he said.
"That's why my son wanted to come with me," he added, with a laugh.

Scott d'Entremont and his son Sam were among the participants at the ninth annual Boxing Day 5K Turkey Run, which took place in Yarmouth, N.S. this morning.

Photo courtesy of Scott d'Entremont

The pair showed up with the other participants prior to the 10 a.m. start time, collecting their bibs, warming up and taking a few photos.
Light snow joined with a fairly strong wind to make for a chilly morning, according to d'Entremont, who guessed at a temperature of around -12 with the wind-chill.
"On the run there was a little bit of snow and some ice in places but, on Main Street, we were dodging shingles that had blown off from the Christmas Day nor'easter," he said. "It was a double loop with only one hill, so a really nice course that way."
Starting at Tim Hortons on Main Street, the course took participants south to Brown Street, down the hill to Water Street, north to Richard Lane, and up the hill to Main Street, repeating the loop a second time before finishing in the West Nova Fuels parking lot on Water Street.

Following the race, a breakfast was provided to participants along with an awards presentation to top finishers, and door prizes.
"It was a very well organized event and it's a favourite for many locals," said d'Entremont.
An estimated turnout of 99 people took part. Proceeds from the event will go to the Megan Corkum Athletic Fund.